Wifi bruteforce hack pro apk. WIBR+ WiFi Bruteforce Hack Pro APK Free Download Latest for Android
Wifi bruteforce hack pro apk
Rating: 8,5/10

1270

reviews
WIBR+ WIfi BRuteforce Hack pro APK v1.0.33
It is the popular Software around over the world in these days. Please note that if signal strength is weak result may unreliable. Esta versão suporta a importação de seus próprios dicionários, para que já não estão limitados pelos dicionários pré-instalados! Sean Malone October 21, at 8: Newer Post Older Post Home. The use of this application is very easy, to use it, first, you have to download this application, and then install this on your Android device. Any wrong use of the app make it illegal, and you solely be responsible for that.
Next
WIBR+ WiFi BruteForce Hack Pro v2.2.0 APK / Atualizado. ( Hacker De WIFI )
As, you know, a lot of hacking and brute force attacking happening all around, the ransomware attack, recently get the attention of the big corporations, you should also be aware of such attack. The attacking process will be slow because it is checking all the password in the text file, so you have to wait to get the password cracked. If this is the case, network replacement attempts may be a better choice. Yes you can crack wifi password in your phone. At 6 per min you will crack nothing ever. Of course, this is completely crazy, because the number of combinations with the length of the exponential growth of the password. Scan Stats: failure:0 harmless:0 malicious:22 suspicious:0 timeout:0 type-unsupported:11 undetected:39 Name:cz-auradesign-wibrplus-83-17641609-04249ca7c362c5a78ef4e064894a2cde.
Next
WIBR+ WIfi BRuteforce hack 2.3.0 Apk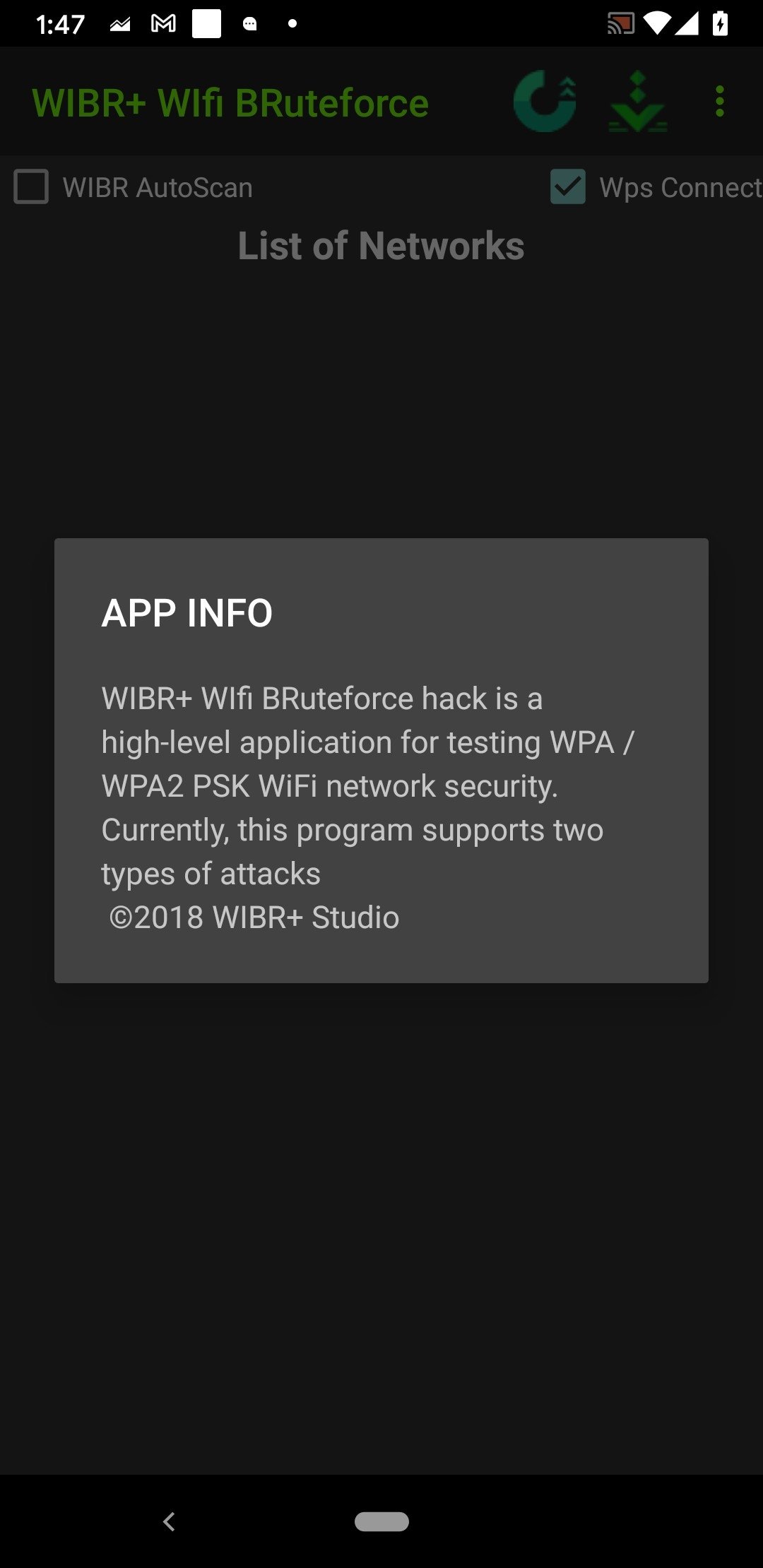 Este aplicativo suporta filas, dicionários personalizados, gerador bruteforce e monitorização avançada! What's more, use this application to check the quality and escape clauses in your internet connection. This Tutorial Is Only For Educational Purpose. The application itself will make the combination by joining different keys and try either the right password grabbed or not. The Android phone started doing brute forcing attack. This App isn't fake and it's working perfectly. On both my galaxy tab 2 and galaxy s4 it will reach a speed of 6 or so passwords per min.
Next
[updated] Wibr Plus Pro
The application supports two types of test: - Dictionary test - it tries passwords from predefined list one by one. Really Iam not kidding after completion of reading you will be able to hack any wifi using. Do not buy as a serious hacking tool. This is one of the excellent wifi bruteforce apk available on the internet. Por favor, não fique desapontado se a senha não será encontrado, significa simplesmente que não era no dicionário. Wibr+ Plus Pro apk is one of the best WiFi passwords cracked app for Android smartphones. It will require some time, might be a few minutes to check all the mix of alphabetic, if your whole secret word isn't in the sequential mix, and afterward, it won't follow the alphabetical.
Next
WIBR+ WiFi Bruteforce Hack Pro APK Free Download Latest for Android
The 8-digit combinations of the keys are used to find out the password of the router, and you can get the Wi-Fi connection cracked. You should tap on your setting, the security setting, now, see the unknown sources button and check it on. Therefore the app supports custom alphabet and custom mask. There are 3 predefined wordlist which you can use. In the next step, you see the four options. We Are Not Responsible For Any Illegal Use Of This Tool.
Next
WIBR+ WIfi BRuteforce Hack pro APK v1.0.33
Please don't be disappointed if the password will not be found, it simply means that it was not in the dictionary. The application cracks the passwords of wireless network connection making the right use of most of the vulnerabilities of the many routers. Even if i close the app and turn off my wifi it turns itself back on 3 seconds later. You even can use this application for educational purpose, or just can try to impress the neighbors by showing off their passwords revealed on your mobile phone. This method follows the attack with many combinations of the keys. In one attack, the application takes 15-30 minutes of the time, and sometimes in the first attack, it cracks the password of the mentioned network.
Next
WIBR+ WiFi BruteForce Hack Pro v2.2.0 APK Full Version Latest 2018
You can easily Download this software from my site for free of cast. In the next step, the application will ask you which key combination you want to make using brute force to get the key to the network. The work function of this application is quite simple, first, it will check your internet password with digits, and it will check all the digits and combination to hack your internet connection. Yes, you can crack wifi password in your phone. Change the installation settings to unknown sources and install the app on your Android phone or tablet. The app will try all passwords like hacker00, hacker01 through hacker99! And use this application to check the strength and loopholes in your internet connection. Good start Just needs option to edit password lists.
Next
Wibr+ Wifi Bruteforce Hack Pro V1.0.33 Apk Download
In fact, you can also choose the minimum and max length of the combination. Do not worry, all the weak passwords will be revealed to you instantly and you would break one definitely. As you probably are aware, a hacking and brute force attacking happening all around, the ransomware assault, as of late get the consideration of the huge enterprises, you should also know about such attack. Looking forward to the next update which will emphasize on the hacking speed for both the bruteforce and dictionary methods. Now, install the application again, you will get a smooth installation this time.
Next
WIBR+ WiFi BruteForce Hack Pro v2.2.0 APK
It may take looooong time due to device strength. Works : Nice job dev, works great! Of course this is complete madness because the number of combinations is growing exponentially with password length. Most of the users do not think this application is genuine. Easily can get to know the basics of great and unbreakable security. To install the app, you'll need Android 4.
Next
WIBR+ WIfi BRuteforce hack Latest Version 2.2.0.7 Apk Download
If you know the password is hacking and two digits, you can set the mask to hack and select the alphabet. There is 3 predefined wordlist which you can use. As we have been giving you the valuable and supportive application, this application is compared to such application, to assist you with making your internet connection is secure, and to ensure that your security not uncover. The program will automatically skip without testing. The app will begin attacking the direct WiFi network. Wifi Bruteforce Hack Pro Apk 1.
Next