Hasp hardlock emulator windows 10. Soft Key Solutions
Hasp hardlock emulator windows 10
Rating: 8,7/10

1426

reviews
DongleBackup PRO is Windows 10 Ready dongle Emulator for Safe
The problem is that the usb key doesn't seem to work on the laptop - it does work with a desktop pc running Windows 10. In the Services Section you can make request for dongle's emulator creation. Emulate your hasp using multikey and the created registry file 1. Now that you have the two passwords, use h5dmp. However the icon info has a text saying Unavailable.
Next
Soft Key Solutions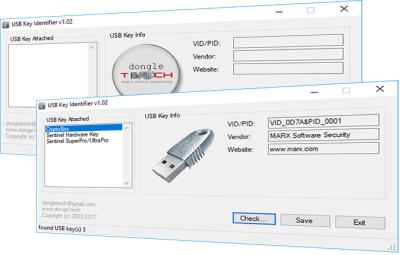 Test mode will not be disabled after cold or warm boot, so your virtual dongle driver will be fully working. Windows 8 Type in cmd from your tile screen. For its time, it was a breakthrough in emulation systems. Install Multikey by running install. You need to press F8 button on bootup and then select Disable digital signature enforcement. Here we go to install virtual dongle driver - dongle emulator.
Next
HASP Driver for Windows 10
We are ready to help if you are a licensed user of the program, but you can't use the original hardware key on your computer for some reason. Remove the existing drivers by typing in : haspdinst. There can be up to 10 different passwords but it doesn't mean that all dongles are connected to computer. Windows 7,8 and 10 64-bit require special digital signature. Open the hasp dump you just created make sure hasp.
Next
How to Install the Latest USB Sentinel LDK HASP Key Drivers
If all goes well you should tell you it was successful and you should now have two files hasp. Sorry I wasn't much help, maybe somebody else will respond with a better answer. So the above provided solution should be considered for those cases only to apply manually and not to implement in your installer. Start service - start service. Start service - starts service.
Next
Etka Hardlock Driver Windows 10
Windows 10 Type cmd in the search bar or click the search symbol if the search bar is set to minimum then type cmd. Running your software To find your key it is necessary to start protected software. Then Dongle emulator driver will be ready for running in your Windows x64 environment. Authorize - get authorization code online or use code received from us by e-mail. If everything is ok you'll see Step 5.
Next
Usb Hasp key not working in Windows 10
Please note, this procedure is required only once for reading your key. Contact us at for troubleshooting. I don't think I have tried anything written specifically for windows 7. Trial version has one week time limitations but it is enough to make sure your software can perfectly work without hardware key attached to computer. Now, Install the drivers again by typing in : haspdinst.
Next
install of hasp driver on windows 10 fails
In the simplest of terms my question is this: Will windows 10 be backwards compatible to programs used on previous versions of windows? Go back to 'Toro Aladdin Dongles Monitor'. Win7 and everytime this was machine-related ie. The charity I work for uses software that requires a usb hasp key to run. So the error looks indicating a corruption in the driver signature database of the installed operating system. A recent hardware or software change might have installed a file that is signed incorrectly or damaged, or that might be malicious software from an unknown source. Or do you see this behavior on other Win10 machines? Thanks for visiting Larry's home page, devoted to programming sphere and software protection research.
Next
Dongle Emulator, Clone and Crack Service
Right click it to open the selection menu and select the run as administrator option. Nothing black-market here no any file, crack, patch, codes, keys, generators, electronic device emulators links here , this can be solely web site links resource as thousands different websites. Log into your computer as a user with administrative permissions. When you apply the latest driver the page will be re-branded from SafeNet to gemalto. This is more a machine-related error since our runtime is digitally-signed, and this latest runtime 7. You can also use our to send us dump file directly and securely. It checks for common issues and makes sure that any new device or hardware attached to your computer was installed correctly.
Next